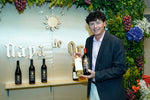 It is an honor to be featured in ABS-CBN Food and Drink section of their blog:
Please check out their review of Napa de Oro's launch in Manila, Philippines.
This Napa Valley veteran is filling up the bottles for this new Filipino wine brand
 The highlight: 
"Our favorite was the merlot though, full bodied, dark-red in color, with the right balance of sweet and acidity."
The launch was a success. Please view our gallery, to see more.